Robinsons has a commitment to quality and takes its FAIMPLUS accreditation seriously. These high standards are adhered to across every sector of our business and every service we provide.


British Association of Removers
Being long standing members of the British Association of Removers (BAR) we maintain the highest standards of facilities, equipment, staff training and operational procedures and adhere to a strict Code of Practice, governed by Trading Standards to ensure high levels of customer care.
It doesn't matter how many moves we've completed over the years, it's your move that puts our reputation on the line! Whilst it is extremely unlikely, if problems do arise, BAR operates a free conciliation service to sort out disputes in a friendly way.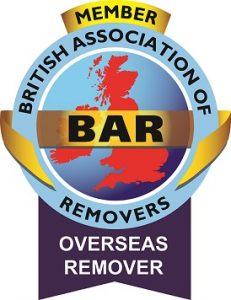 We are also members of the BAR Overseas Group, a dedicated group of companies within the BAR that specialise in all aspects of overseas removals. Each member of the BAR Overseas Group is experienced in handling part and full container load consignments worldwide and in taking care of goods coming into the UK from abroad.
More importantly, every BAR Overseas Group member subscribes to a financial bonding scheme to protect all pre-payments to the company.
We adhere to the British Association of Removers Alternative Dispute Resolution Scheme which is independently operated by
The Furniture Ombudsman
3-4 Viewpoint Office Village, Babbage Road, Stevenage, Hertfordshire, SG1 2EQ
T: 0333 241 3209
www.thefurnitureombudsman.org
For further information about the benefits of using a BAR remover, visit the BAR website.
BIFA works to represent and support Britain's freight services industry in the UK and overseas, promoting Best Practice and Total Quality in the provision of freight services by all members, and encouraging and regulating the membership to observe the highest standards of professional competence.
The British Antique Dealers' Association (BADA) is the trade association for the leading antique dealers in Britain. Since its foundation in 1918 BADA has set the standard for trading in the antiques business. Its main aim is to establish and maintain confidence between its members and the public, thus ensuring that a member of the public can have confidence when buying from, or selling to, a member of the BADA.

Worldwide reassurance
Overseas we share a global partnership with over 260 companies in more than 70 countries around the world.
We are all committed members of the industry's leading associations, including FIDI (International Federation of International Furniture Movers) and OMNI (Overseas Moving Network Incorporated). Both organisations set strict financial, operational, administrative and quality standards for their members which ensure the quality of our service across all continents and cultures.
FIDI's FAIM 3.1 is the world's only quality certification geared exclusively at the international moving industry, and we are proud to be a FAIM 3.1 Top Performer.
As founder members of this exclusive worldwide alliance, it means that we will always select the very best partner for each individual move, without being restricted to using overseas branches whose standards may not live up to our own.
Our FIDI accredited office is Abingdon OX14 1TN.
More about

International Removals