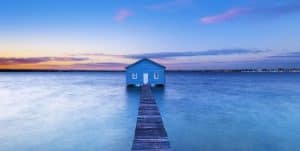 With Robinsons, international removal is more than getting you from A to B.  It's about helping you build a new life abroad.
As one of the UK's largest household goods exporters, we've perfected the stress-free international move.
Robinsons have spent the past 120 years pinpointing exactly what it takes to be an award winning international removals company. We see things from your point of view; we're always Moving Your Way.
Award Winning International Removals Company
We know that trusting someone else with your possessions can be tricky.  With Robinsons, it doesn't have to be. Shipping household goods across the globe is second nature to us. Our first-rate team complete international moves on a daily basis and are always willing to adapt to your needs.
Our international service meets a range of budgets, whether it's via:
Groupage (a shared cost shipping container)
Full container load (your own container)
Air freight (aircraft transportation for urgent moves)
European road transport (complete door-to-door service)
We're very proud of our accolades. We've twice been awarded International Moving Company of the Year (2011 and 2012) and were runners up in the Forum of Expatriate Management awards in 2013 and 2014.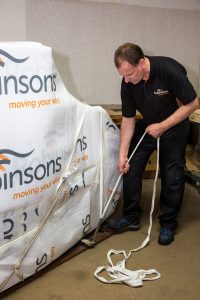 Preparation and Planning Expertise
Every international move is co-ordinated by a dedicated Move Manager.  As your main point of contact, they'll take care of timing, customs regulations, packing and much more.
Packing is an important aspect of moving. From sturdy sofas to fragile frames, Robinsons pack your goods using the latest techniques. You can also choose to pack independently. If so, we'll provide you with packing materials and advice on how to minimise risk of damage.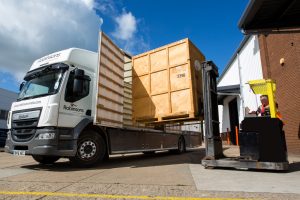 Can't take everything with you?
We also provide a secure, protective storage system. Our storage containers are:
Packed under your supervision
Accompanied by a full inventory and insurance
Available for long or short term periods
Stress-Free Car Shipment
We specialise in shipping cars to Australia and New Zealand. It's a long distance to haul your treasured wheels, but our expert Move Managers will guide you through it.
Options include:
Sole use container (car shipped in its own container)
Shared (groupage) container (car has its own compartment in a shared container)
RoRo (roll on, roll off) vessels (car is loaded into the decks of a specially designed vessel)
Want to know more about our international removals services? Just get in touch and we'll be able to answer any questions you may have.