Robinsons are one of the largest independent relocation solution providers in Europe. We are a trusted provider of Relocation Services to the Global Mobility Sector with access to global operations in over 180 countries, relocating in excess of 10,000 families every year.
We provide a fresh determination to look at Global Relocation challenges in a new way rather than simply accepting conventional methods and attitudes. We ensure our clients are at the centre of everything we do and we continue to build on the company's long established core values of openness, honesty and transparency to constantly develop unique and tangible benefits for our clients.
We work hard to understand our clients' company culture, business objectives and needs so that we ensure the services we provide are aligned to their needs. We believe true service flexibility can only really be measured by how far we are prepared to support and accommodate customers' needs.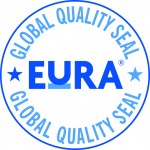 Robinsons Relocation obtained the EuRA Global Quality Seal in July 2015.
More about

International Removals