The five most expensive locations around the world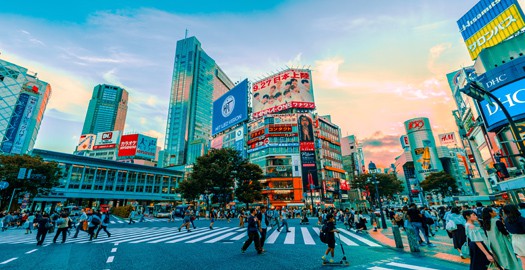 If you dream of the expat life relocating abroad and broadening your horizons, then you have a big decision to make on where your ideal new home might be. Be warned, make sure you look into all destinations with some thorough research. If you're hoping a continent change will lower your cost of living, be sure to steer clear of the following cities, as The Economist names them the top ten most expensive locations in terms of cost of living.
Tokyo
Topping the cost of living list is Tokyo, the most populated metropolis in the world. It might not be cheap, but the Japanese capital offers a vast range of choice when it comes to shopping, entertainment, culture and dining to its visitors. If the cost of Tokyo doesn't put you off, then moving there will provide you with a truly exceptional cultural experience.
Osaka
Following on from Tokyo, Osaka further illustrates that major Japanese cities are expensive locations for expatriate relocation. With a skyline dominated by some of the world's tallest buildings, there is plenty to see in the city, as well as being the historical commercial centre of Japan. Similarly to Tokyo, Osaka has vast cultural offerings.
Sydney
Australia is a popular choice to many expats, and is the second most popular destination we relocate customers to. Offering a carefree lifestyle, great food culture, globally renowned landmarks and a great climate, it is no surprise that Oz, and Sydney in particular are so popular, despite the high cost of living.
Oslo
Scandinavia is renowned as being an expensive area, and the cost of living with everyday food and drink items is much more than in the UK. The capital of Norway offers ample cultural benefits if you choose to live there. Wages are generally very good in Scandinavia, but they are comparable to living expenses so it isn't wise to be overly flamboyant when spending your first month's wage – as it may take a while to budget the cost of your necessities.
Melbourne
Melbourne is the second Australian city to make this list, however the relatively expensive living cost of Melbourne doesn't deter expats and others relocating, with Melbourne being named as the world's best place to live for the third year running. Boasting beautiful parks, stunning coastal drives and an overall cool vibe aided by a strong cafe culture, it isn't a surprise to see Melbourne named the most popular destination for starting a new life, besting the likes of Vienna, Vancouver and Auckland. 
Rest of the top ten
Coming in just outside of the top five are representatives from Asia, South America, and Europe. Singapore's economic growth means the city now offers ample opportunity when it comes to expat relocation, however the growth of that region of the world also means you have to tolerate high levels of pollution, along with a high living cost. If you're looking to stay closer to home in Europe, traditional favourite Paris comes in at eighth on the list of pricey locations, and a quick hop over the border to Switzerland allows you to enjoy stunning scenery, beautiful parks and outstanding museums at a cost, with Zurich and Geneva making the top ten. Venezuela may not spring to mind as an expensive relocation destination, but capital city Caracas sneaks the ninth most expensive cost of living location in the world.
If you're looking to relocate, let us know what locations take your fancy. Be sure to check out our website for more information on moving overseas.
Photo Credit: Pexels