Robinsons helps Abingdon charity with office relocation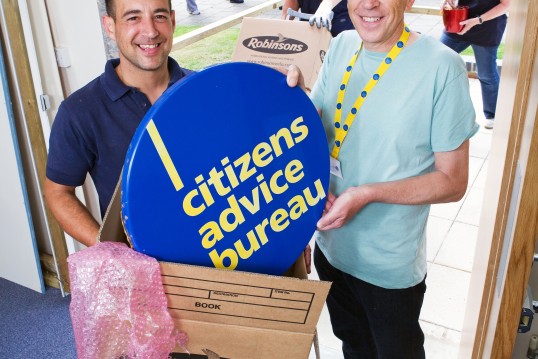 As part of our demonstrated commitment to the community, we're always on the lookout for great causes to help out, and recently we got the perfect opportunity to offer help to local charity, the Citizens Advice Bureau in Abingdon.
The charity planned a move into new, modern offices at Abbey House, Abbey Close, and we agreed to provide its removal services free of charge.
Staff and volunteers at the Citizens Advice Bureau work extremely hard to provide help and advice to thousands of people in the local community on a wide variety of matters from legal concerns to personal finance matters.
Tom Fox, director of Oxfordshire South & Vale Citizens Advice Bureau, said: "Because we are a charity, we are responsible for finding our own funding, with no central investment. That means we're extremely grateful to local business like Robinsons in helping us out in situations like this. The less we spend on services like removals means the more we can directly spend on providing valuable advice for members of the community."
Anthony Robinson, our Managing Director, comments: "The Citizens Advice Bureau provide an extremely valuable and well-used service in the area, and as such, we're happy to help them out. We're aiming to take away the stress – and expense – of their move, and we wish them well in their new home."
The Citizens Advice Bureau works to offer free, independent, confidential and impartial advice to everyone on their rights and responsibilities. It also values diversity, promotes equality and challenges discrimination, and has launched a number of local initiatives such as campaigns for change – challenging problems faced by the local community and proposing solutions, and consumer empowerment – protecting, informing and empowering local consumers through education.