Moving in the UK: London city guide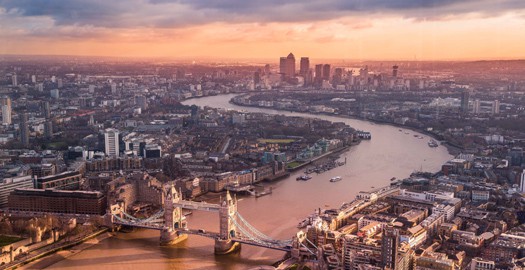 Home to an impressive 7.5 million residents with languages spoken from around the world, it comes as no surprise that London is one of Europe's largest and most alluring cities. Overflowing with cultural experiences, places to visit and sights to see, there is never a dull moment in the UK's capital. If you're moving to the big city, ensure that you find time to breathe in the hustle and bustle of city life before you catch yourself walking (briskly) along to the upbeat rhythm of this beautiful city.
Entertainment
Whether you enjoy musicals or bands, masterpieces or street art, London a treasure trove of entertainment. Music, cinema, theatre and shopping; you name it, London's most certainly got it. From quirky little independent shops to a maze of stores large enough to get lost inside. If you're after performances, music is available at small intimate venues, through to massive stadium performances from world-class musicians. The variety and the talent in the city is astounding and not something you'll be able to avoid, no matter how hard you might try.
Sightseeing
Make the most of living in the capital by feasting your eyes on the large variety of world-class landmarks that London has to offer. Big Ben, Houses of Parliament, Trafalgar Square and Buckingham Palace, to name just a few, will satisfy your endless capital curiosity.
Transport
If you can conquer the London Underground, then the world (or London, at least) is your oyster – quite literally if you are a holder of an Oyster card. You'll have to endure tightly packed carriages, however the tube is by far the most effective method of transport. Show no mercy when changing carriages, otherwise you may find your good-hearted self on the other side of London, miles away from your desired destination. It sounds hostile, but once you're packed into your tube carriage, avoid eye contact and don't speak, that's how the natives do it! Keep yourself entertained for the journey like a local, by enjoying a book or by escaping with an iPod.
Attractions
Despite the inevitable high prices you come to expect in the city, London also offers a surprisingly large variety of free attractions, ensuring that there is something to entertain all who are privileged enough to reside there. Whether it be an educational visit to the world-reknowned National History Museum or a creative day in the Tate Modern, the discoveries (and free attractions) are plentiful.
Wining and Dining
The vast array of culture on offer in London means that there is real demand for high quality cuisines. With a different restaurant on every corner, you'll find yourself following your nose to your next meal as the aromas warmly draw you in. Whether you're after Michelin starred restaurants of the highest quality or a not-so-cheap but always cheerful takeaway, you won't be short of options.
Parks
If you ever find yourself needing a break from the hectic commotion of city life then why not chill out in the many tranquil parks London has to offer. From the luscious Hyde Park to the historical past of Regents Park, you will be able to hear yourself think once again, as you take a wander through the autumnal foliage.
If you're looking to relocate in the UK, make sure you take a look at our dedicated website section for home removal in the UK.