Moving to South Africa from the UK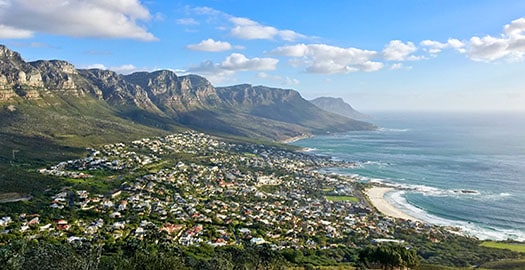 As one of the most diverse and stunning countries in the world, South Africa remains a popular relocation destination.
With 3 capital cities, 11 official languages, 9 provinces, almost 2800 kilometres of coastline, the longest wine route in the world, 299 species of mammals, 858 species of birds, plethora of unique outdoor experiences ranging from enjoying a wildlife safari to bungee jumping or going whale watching and doing a tree canopy tour, there is no wonder why so many people are moving to South Africa for a better life overseas.
However, like with any international relocation, it is important to prepare your South African adventure well in advance. How long does it actually take to move to South Africa? Which paperwork needs to be sorted and when? What are the key facts to know about the most southern country in Africa?
This short factsheet will help you with everything you need to know to start your preparation.
Get in touch with Robinsons to discuss your move to South Africa
If you want to discuss your move to South Africa with an expert and get a realistic idea of the costs involved for your personal circumstances call us free on 0800 521541.
Shipping transit
The most cost-effective method to move your furniture and belongings to South Africa is via shipping.
If you decide to have your own container, called Full Container Load, you need to allow a door-to-door transit time of 6-8 weeks. Choosing a shared container shipment, known as groupage, will be cheaper but will take longer: around 10-12 weeks door-to-door.
Customs Regulations
As a result of South Africa's regulations, there are certain things that you may have to leave behind. For a comprehensive summary of the South African Border Services Agency requirements, it is worth consulting the FIDI Customs Guide for South Africa.
If you can't find a home for the items that you can't take with you to South Africa, Robinsons offers first-class, secure storage facilities.
Permanent residency
You need to apply for permanent residency via the South African Department for Home Affairs. In terms of granting Permanent Residency Permits, importance is placed on people that will make a meaningful contribution to broadening the economic base of South Africa.
Please beware, that time frames for South African visa applications can vary from a few weeks up to several months, so it is paramount to start as soon as possible!
To get some guidance and help about the various types of visa available including their eligibility criteria, visit the South African Home Affairs website.
Moving pets
If you plan on taking your pet dog or cat with you when moving to South Africa, you will need a veterinary import permit. More information on the application process can be found on the South African Department for agriculture, forestry and fisheries website.
You pet will need to have a valid rabies vaccination as well. The first rabies vaccination must be given no more than 12 months and no less than 30 days before the date of import. In the case of a booster rabies vaccination, the vaccination must be given no more than 12 months before the date of import.
Upon arrival in South Africa, cats are not routinely quarantined, but beware that a 14 day quarantine is imposed on some dogs, depending on the country of origin.
Driving in South Africa
You can drive in South Africa with a valid UK photo card driving licence for up to 12 months; if you have a paper licence, you should also get an International Driving Permit (IDP) before leaving the UK.
However, as soon as you have been granted South African permanent residence, you must convert your driving licence to a South African one within 12 months of receiving your permanent residence permit. For detailed information on how to convert your driving licence, visit The South African Government website.
Finding a home
Whether you are planning on renting or buying a property, it is wise to get a feel for the local property market as soon as possible. The following websites are the perfect starting points to see which properties are available and at what cost: www.property24.com, www.remax.co.za and www.rawson.co.za.
Choosing a school for your children
The education system in South Africa has recently come under the spotlight. Until the deeply rooted crisis gets resolved, choosing the right school for your children will be more critical than ever, so start by visiting the parents and guardians section of the Department of Education for generic information. To help you, www.private-schools.co.za has a comprehensive directory of private schools by province.
Healthcare
Although national public healthcare is available, it is recommended to take out comprehensive private medical insurance. With more than 100 insurers to choose from, you will need to compare the various packages offered by local providers such as Discovery, Bonitas and Momentum or international insurers such as BUPA International, Axa PPP and William Russell.
Register as a tax payer
You must register as a tax payer with the South African Revenue Service (SARS) if you earn more than a specific amount, which is determined every year. You must register within 60 days of first receiving the income.
Cost of living
Despite the ever-fluctuating Rand, the South African economy remains on the rise so life in South Africa is no longer as cheap as it used to be. Having said that, South Africa still remains a much more affordable country to live in than most European countries, and on average you can expect the cost of living in Johannesburg, Durban or Cape Town to be 45% to 58% cheaper than London's.
Public Holidays
South Africa has 12 public holidays. You can find the dates for 2019 and 2020 on the South African Government website. Please note that whenever a public holiday falls on a Sunday, the following Monday is a public holiday.
Weather
South Africa is a megadiverse country with very distinct climatic zones.
Cape Town and the area around the Garden Route enjoy warm summers but the rain is unpredictable and can fall at any time! Winters tend to be cold and wet. Further East, Durban and the subtropical area of Kwazulu Natal have very warm and sunny winters.
In contrast, Pretoria and Johannesburg have a near perfect climate: the winters are dry with chilly nights, and their summers are hot but can be disrupted by spectacular thunder showers.
For more generic information, visit the Gov.uk website which provides up to date advice for British nationals living in South Africa.