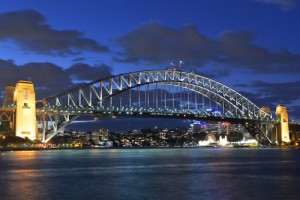 Moving to Australia is not exactly something that can happen overnight. The entire process has its challenges which can put a strain on processing times. So when do you start planning then?
Down Under is a very inviting and exciting destination to move to but you must take your time when planning. You need to learn to walk before you can run and this guide will help you arrange everything so nothing gets delayed.
Shipping transit duration
The time it will take to ship your furniture to Australia differs. For a Full Container Load, you can expect a door-to-door transit time of 6-8 weeks. A Shared Container Shipment – known as groupage – will be cheaper but it will take longer, 10-12 weeks door-to-door.
Note that all household goods are subject to a physical examination by the Australia Quarantine Inspection Services (AQIS) and they can hold things for up to 14 working days; so this can further delay your move.
If it is possible, have your goods cleared by customs before you arrive in the country to speed everything up.
There is no set processing time to get a permanent residence visa to immigrate to Australia and obviously each application is dealt with individually. It really depends on the kind of visa you are applying for but as a general rule of thumb, it takes most applicants 9-18 months to receive a decision, including the time required to prepare the application before lodgement.
Temporary work and spousal cases are quicker and take around 3-6 months whilst applicants requiring professional registration can take an additional 6-12 months to process.
Australia's Department of Immigration & Citizenship (DIAC) process visa applications according to the following categories; (highest priority listed first):
Priority 1- Applications from people who are Employer Sponsored  (under the ENS or RSMS) 5 to 7 months
Priority 2- Applications from people who are State or Territory Nominated with a nominated occupation specified on that state/territory's State Migration Plan 12 months
Priority 3- Applications from people who have nominated an occupation on the new Skilled Occupation List (SOL) – Schedule 3 – in effect from 1 July 2010 18-24 months
Priority 4- All other applications to be processed in the order in which they are received. Approximately 6 months wait before processing starts
All visitors are required to have a passport that is valid for 6 months beyond their expected stay, a valid visa or travel authority and an onward or return ticket.
Bear in mind when travelling that Australia does have a different time zone so the duration time will change. Between November and March, day light savings (summer time) the following time zones apply:
 New South Wales, ACT and Victoria- GMT +11 hours
South Australia- GMT + 10- 12 hours
In April to October:
Western Australia- GMT +8 hours
South Australia and Northern Territory- GMT +9 ½ hours
Queensland, Victoria, New South Wales and ACT- GMT +10 hours
Now you know how long it takes to move to Australia, you can start to plan your removal. Take the first step by getting an online quote.