Cultural quirks: Five things the expat needs to know about Singapore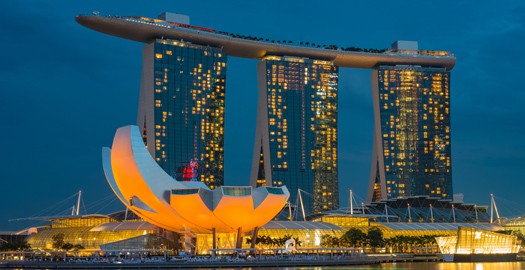 If you're planning on setting up camp in south eastern Asia we understand that you're under a lot of pressure and the last thing you want to be worrying about are the cultural changes you're going to need to adapt to. Don't panic, however, as we've put together a list of culture variances so that when the time comes for you to arrive in beautiful Singapore, you'll be fully up to speed on local practices.
Adapting to the tropical climate
Singapore is known for its tropical year round climate that has no sharply divided seasons. With a national average temperature of 80°F (27°C) accompanied by high humidity, large amounts of rain and the probability for monsoons between November and December some expats find the initial adjustment a bit of a shock. Fortunately Singapore's dress code tends to be quite casual with the exceptions of high class restaurants, the work place and places of worship, so light shirts and shorts tend to be the typical choice of attire for many locals. You'll soon learn what clothing is acceptable for different situations, so just make sure you keep an eye out over those first few weeks and monitor what others around you are wearing.
Delicious cuisine
Singapore is the cuisine capital of Asia, and the nation's delicacies incorporate a rich heritage of dishes influenced by Chinese, Malaysian and Indonesian tradition. Many of these are your standard rice and noodle dishes, however there are some more obscure meals you should get used to seeing such as chilli crab, oyster omelettes and fish head soup. It might not sound to everyone's taste, but if you move to your new home with an open mind, you might uncover a new favourite meal.
Safety first for citizens
Singapore does not take crime lightly and no matter where you originate from, if an expat commits a crime they'll be subject to the Singaporean law and punishment. Additionally culture restricts freedom of speech and personal expression, not to mention certain publications and movies having been banned along with others being censored before being released to the public. All of this may sound a little intense to an expat, but as a result of this culture Singapore is one of the safest places to live!
Cost of living
Singapore is known for its very high standard of living, however, as you'll probably know if you've done your research on the nation, this doesn't mean your new life is going to be a cheap and cheerful one. Singapore is one of the ten most expensive cities in the world when it comes to cost of living. Singapore has a very high tax rate on alcohol and clothes so some expats may find maintaining a social life here expensive when comparing it to the UK, but if you budget well and make sure you're savvy with your money initially after your move, you'll soon learn the best way to budget your salary and live a high quality of lifestyle.
Photo credit: Pexels