Winter expat hotspot cities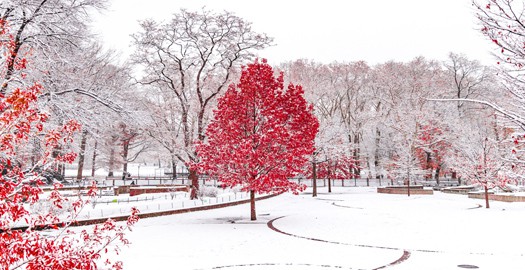 For many of us, the cold weather and snow of winter is far from ideal, and whilst some might be dreaming of summer and escaping to warmer climes, there are people amongst us this winter who will be embracing the cooler, chilly air. If the winter weather is more to your taste, and your perfect January comprises of a refreshing stroll in the chilly breeze with snow underfoot, here are some of our top winter expat locations.
Voted the world's happiest nation as recently as 2013, it's hardly surprising why people see Denmark as an enticing prospect when it comes to embracing the expat lifestyle. Copenhagen, the nations capital is a true winter retreat, offering snow, ice rinks and ample opportunities to warm up with a cosy coffee or hot chocolate. If you're planning to make the city your new home, you won't be short of dining options, within the city, it's still almost impossible to book table at Noma, the famed Nordic restaurant that's been named the World's Best Restaurant three times; however there are plenty of other options. The city boasts 15 Michelin stars, and several Noma chefs have gone on to set up their own places with equally incredible looking menus.
Renowned as a destination ideal for those with an interest in snow sports, Canada is an appealing choice for many expats due to the absence of a language barrier. Whilst heading to a European nation will leave you needing to learn a new language, Canada (for the most part) has no such issues – unless you plan to head to the French speaking areas. If you savour the cold, then the height of winter is freezing cold in most regions of Canada, with the exception of the BC coast where winters are more moderate. Areas like Whistler, two hours inland from Vancouver, on the other hand, gets loads of snow and is one of many major ski destinations in the country.
Whatever type of winter expat life you're searching for, America has states and cities, which can cater to your needs. Whether you're looking to embrace the magical winter of major cities such as New York and Chicago, to enjoying ski retreats in the altitude of Colorado, the United States is an expat haven. If a winter escape to warmer climes is what you seek, states such as California, and Florida offer a range of warm beachside retreats, whilst the likes of Texas and Louisiana are also warm weathered favourites.
It might not seem logical, however if you're planning for the British summer and want to swap the moderate, yet temperamental temperatures for the New Zealand winter, you can expect to enjoy snow, fresh air and some of the world's most stunning scenery. Again, New Zealand is a haven for snow sports, boasting some truly legendary slopes. If you're unknowledgeable when it comes to New Zealand's north and south islands, the southern offering is home to the most resorts, with 5 across Queenstown and Wanaka. Alternatively, Mount Cook Mackenzie is another stunning location, with Mount Cook soaring high above you and dominating the skyline. If you're searching for a winter haven, New Zealand has plenty to offer, including the incredible hot pools dotted around the islands. If taking in the staggering countryside, whilst enjoying the warmth of a hot pool, surrounded by snow sounds idyllic, then this is your expat home.
Photo Credit: Pexels and free to use images sourced via Google image search.