Top reasons for using storage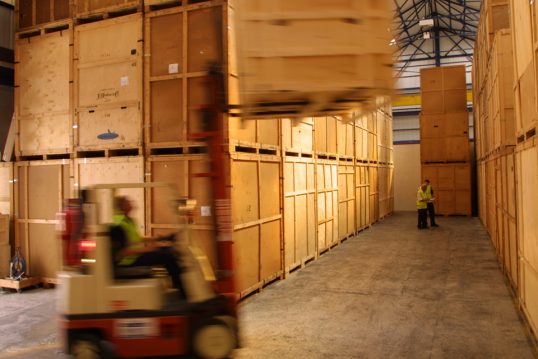 Moving house can be a stressful experience for all those involved, even at the best of times. With a lot to plan, organise and arrange, the last thing you need to worry about is where to store all of your household items and belongings. Here at Robinsons, we offer our very own security-alarmed storage system in order to ensure your items are stored in the safest way possible.  If you've recently moved and want to make sure your new home doesn't become instantly cluttered, here are our top reasons as to why you should consider storage options.
Finance
Following what is likely to have been a pricey home move, and now want to ensure your new home stays clutter free, our storage solutions offer a financially prudent option, allowing up-front payments with no additional or hidden costs. We also offer a free, no obligation storage quotation. Once booked in, you can have an informal chat with one of our Moving Consultants in order to ensure we are doing everything we can to meet your storage needs.
Security
Our secure and reliable self-storage facilities mean you can rest easy, safe in the knowledge that your items and belongings are in safe hands. All of our storage systems are built with a security-alarmed system in order to guarantee the safety of your belongings. Our storage facilities are clean, dry and pest-free as well as receiving regular control checks. And if that wasn't enough, each storage system has its own fully automatic fire detection and reporting systems to ensure the upmost safety.
Storage Insurance
In order to save you the hassle of worrying about insurance, we automatically insure all of your goods up to £50,000 for no additional costs. Many self-storage facilities do not come with automatic insurance, meaning that you have to sort your own insurance which is often a costly and time consuming process. Here at Robinsons we make sure all the paperwork is completed before hand.
Quantity
The amount of consumer goods we buy is starting to significantly outweigh the amount of space we have in our homes to store them. Whether it be small household items, or large pieces of furniture, our storage will enable you to store whatever you desire, for as long as is necessary.
Ease of Access
Robinsons storage facilities allow you to access your belongings at any time during office hours. Also there's no need to worry about transportation, Robinsons will arrange delivery and unpacking at any time that's best for you.
Convenience
If you're planning to move further afield and have plans to embrace the expat lifestyle, it's highly unlikely you'll want to take all your possessions with you. However long you plan to take on your new lifestyle, by using our storage your belongings are sure to be kept secure and safe, meaning you can rest easy and focus on the more important aspects of your new life.
Location, Location, Location
With several of our storage locations across the country, you're never too likely to be far from your possessions. With destinations in Basingstoke, Birmingham, Manchester, Oxford and London, you shouldn't need to look too far to find your nearest location.
History and Expertise
We are one of the UK's leading specialists in International, European and UK moving. As a company, we've been established for more than 100 years, having opened our original London branch in 1911.
So to find out more, or get more details on our storage packages, feel free to visit our website here.
Photo Credit: Robinsons Relocation