Moving to the USA from the UK: What you need to know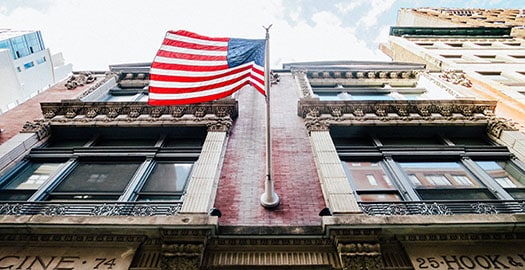 The United States of America is one of the most popular destination for Brits abroad. Whether you are moving for your professional career, or because you are craving for better weather and more space, or simply because you want to pursue the American Dream, the USA remains the land of opportunity for all, from bright students to young families and dynamic pensioners.
Having moved more than 355 families to the United States of America last year, we thought we would share our experience and help you run through the priorities you need to tackle and organise before you start your American adventure.
Get in touch with Robinsons to discuss your move to the USA
If you want to discuss your move to the USA with an expert and get a realistic idea of the costs involved for your personal circumstances call us free on 0800 521541.
Shipping Transit Duration
The time it will take to ship your belongings to the United States differ depending not only on the location – East Coast vs West Coast – but also the type of shipping you choose.
For a Full Container Load to New York, you can expect a door-to-door transit time of 3 to 6 weeks. However, the same shipment to New York but organised as a Shared Container Shipment (also known as Groupage) will take longer, 6 to 8 weeks door-to-door but it will be significantly cheaper.
If you want to ship your belongings to Miami expect a door-to-door transit time of 4 to 8 weeks. A Shared Container Shipment to Los Angles will take 6 to 10 weeks.
Customs
You do not have to bring your household and personal effects into the United States all at once. However, in order for you to import them duty-free, you should not wait longer than 10 years after the importer's last arrival in the U.S. from the country in which the goods were used.
After 10 years, the only way they may be imported duty-free is if you can provide the Port Director with an explanation of unavoidable circumstances, which made it impossible to import them within 10 years.
Your shipment of personal and/or household goods must be cleared through U.S. Customs and Border Protection (CBP) at its first port of arrival, unless you have made arrangements with a foreign freight forwarder to have your effects sent to CBP custody in-bond from the port of arrival to a more convenient port of entry for clearance. If you choose to move with Robinsons, we can provide you with this service.
You may import furniture, dishes, linens, libraries, artwork and similar household furnishings for your personal use free of duty. To be eligible for duty-free exemption, the articles must have either been available for your use or used in a household where you were a resident for one year.
We recommend you consult the latest summary of US Customs regulations, as some of your personal items might not be allowed into the country.
If you can't find a home for the items that you can't take with you to the USA, Robinsons offers first-class, secure storage facilities throughout the UK.
Once your goods have arrived in the US, CBP will not notify you. It is essential that the carrier notify you that your goods have arrived in port – otherwise after 15 days, they will be taken to a general order warehouse and may be sold at auction after six months.
If you cannot come to the CBP office yourself, you may designate a friend or relative to represent you in CBP matters. You must give that person a letter addressed to "Officer in Charge of CBP" authorizing that individual to represent you as your agent on a one-time basis to clear your shipment through CBP along with a completed CBP Form 3299 Declaration for Free Entry of Unaccompanied Articles to give to the CBP Officer.
For additional information about the whole customs process, visit the US Customs and Border Protection website.
Immigration Visa
With more than 65 different types of visas issued by the US Government, the US Citizenship and Immigration Services "Explore my options" tool is the best way to find out about your visa options and their eligibility criteria.
Generic information about the procedures for entering the USA is also available on www.usa.gov.
Finding a home
"Location, location, location": whether you choose to live in a high density homes area with a thriving local economy, or in a quieter or less prosperous part of the country, you can already look at what is available and at what cost by visiting www.realtor.com, www.century21.com and www.zillow.com.
Choosing a school for your children
Although the overall US school system is good, the standard of education may vary significantly depending on the state or the area you are considering. It is therefore recommended to check the website of the Department of Education of the state you are relocating to.
Private and international schools are widely available in major cities and provide a wider choice of curriculum. www.privateschoolreview.com has a great tool with a detailed information per state.
Healthcare
As there is no universal healthcare provided in the USA, you will need to subscribe to a private health insurance either directly or through your employer sponsored programme. www.usa.gov has a comprehensive section about health insurance, including government programmes.
There are many health insurance providers, so start by visiting a site comparison like eHealth to guide you through your options.
Moving your pets to the USA
Importing your pet from the United Kingdom to the United States of America is a relatively straightforward process which doesn't require your pet to be identified with a microchip nor quarantine (except for birds)
The Centers for Disease Control and Prevention (CDC) require that all animals be 'healthy' before they enter the US. If your pet has lived in the UK for at least 6 months, it doesn't need a valid rabies vaccination certificate, but you still need a health certificate from a vet confirming the animal identity, the dates of his vaccination and that the UK has been rabies free for at least half a year prior to travel.
Finally, you will need to check if the particular state you are moving to has any additional import requirements. To do so, please visit the State's Department of Agriculture website.
If you have questions about importing an animal into the USA, please email the National Import Export Services.
Driving in the USA
As a US resident, you will need to apply to get a driver's license from the state you've moved to. However, the residency requirements for obtaining a US driver's license differ in each state, so you need to visit your state's department of motor vehicles website to find out how to apply.
Cost of living
The cost of living in the United States can fluctuate quite drastically from one state to the next. For example, New York and San Francisco are as much as 3 times more expense for housing, transportation and utilities than much of the rest of the country. They both have the highest sales and income tax rates as well.
A recent study based on data from the Consumer Price Index (which included prices paid for goods and services, including food, shelter, energy, transportation and medical care) showed that the cost of living in the US had been rising by 14% in just the past three years.
So before you set up your mind on a particular state, make sure you're done your research and set up your budget accordingly.
And before you book your one-way ticket, don't forget to visit the Gov.uk website which provides up to date advice for British nationals living in the United States of America.