Moving without excess: why you should consider using storage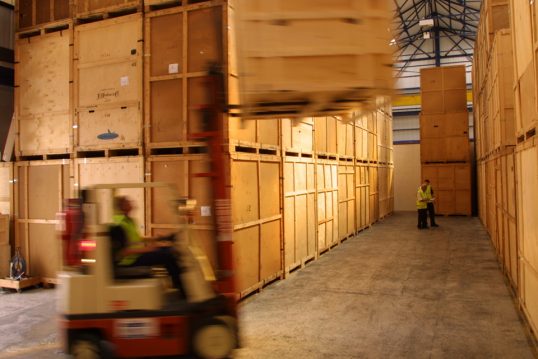 When moving home, many people see it as the perfect time to throw out some of the old unwanted items that clutter up the home. Not all unwanted items need to be thrown away though, as some pieces might just not fit with the style of your home, or could have other sentimental value. Rather than filling your storage space in the new home with items that you don't need, storage is a great way of retaining items but keeping your house free of tat. Although self storage might seem like the best option, here is our advice on making sure your prized possessions are safe in the hands of professionals.
Price
Prices are probably the most important issue and the thing that immediately springs to mind when considering your move. Although we can't guarantee that your moving and storage costs will always be cheaper when using other companies, as the cost will differ from person to person, it is commonly the case that people who use a removal and storage company save somewhere between 30-35% over independently sorting self-storage.
Labour
When moving home, there you'll have a lot on your plate, so any steps you can take to minimise this workload are vital. No one wants to spend their weekend sorting out van hire, arranging furniture for packing and then having to unpack at the other end; especially after a full week at work. Rather than biting off more than you can chew and opting to do it all yourself, opting to call a professional company not only saves you time, but also, cuts down on your own manual labour and allows you to spend your weekend doing more of what you enjoy.
Insurance
Whether you're shipping items to your new home, or opting to de-clutter and put some items into storage, we at Robinsons comprehensively insure your goods for up to £50,000 as part of the price, to make sure you have peace of mind. If you'd considered placing items into self storage units under assumption it's be more cost or time efficient, then you might want to reconsider. Self storage companies they often expect you to pay further costs to insure your goods. Even if you use a company that allows you to insure your own goods, it's a pricey process, and before you know it, the cost could go through the roof.
Time length
The fact that the whole removal and storage process is so easy and pain free when done by professionals in turn leads to items being stored away for longer periods of time ,should it be convenient to you. With peace of mind that goods are safe and in good hands, we find that customers storing objects for much longer than they would in a standard self storage unit.
Facilities
Each of our storage centres are security alarmed, making sure that all of your goods are as secure as can be. Each location is also clean, dry and free from pests with regular control checks. Each facility has its own fully automatic fire detection and reporting systems for additional peace of mind.
If you're looking for storage solutions, make sure you check out the dedicated section of our website.
Photo Credit: Robinsons Relocation