Moving to Canada from the UK: What you need to know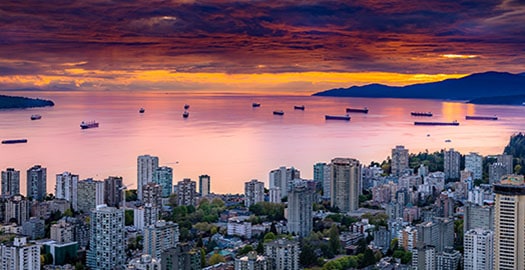 Second largest country in the world, Canada boast great scenery and a wealth of opportunities. With Vancouver, Toronto, Calgary and Montreal regularly topping the charts of the most liveable cities in the world, Canada provides a great quality of life, so you are undoubtedly making the right move.
Having moved more than 200 families to Canada last year, we thought we would share our experience and provide you some information about the priorities you need to tackle and organise before you start your Canadian adventure.
Get in touch with Robinsons to discuss your move to Canada
If you want to discuss your move to Canada with an expert and get a realistic idea of the costs involved for your personal circumstances call us free on 0800 521541.
Shipping Transit Duration
The time it will take to ship your belongings to Canada differ depending not only on the location – East Coast vs West Coast – but also the type of shipping you choose.
For a Full Container Load to Toronto, you can expect a door-to-door transit time of 5 to 6 weeks. However, the same shipment to Toronto but organised as a Shared Container Shipment (also known as Groupage) will take longer, 8 to 12 weeks door-to-door but it will be significantly cheaper.
If you want to ship your belongings to Vancouver, the door-to-door transit time for a Full Container Load is 6 to 7 weeks, whereas a Shared Container Shipment to Vancouver will take 9 to 13 weeks.
Customs
Before packing your personal belongings to Canada, we recommend you consult the latest summary of Canadian Customs regulations, as some of your personal items might not be allowed into the country.
If you can't find a home for the items that you can't take with you to Canada, Robinsons offers first-class, secure storage facilities throughout the UK.
Before you leave for Canada, the Canadian Border Agency recommends you prepare 2 copies of a list of all the goods you intend to bring into the country as part of your personal effects. The list should include the value, the make, the model and serial number (if applicable) of all the goods.
You must divide your list into 2 sections: in the first one, you must list the goods that you are bringing with you and in the second section, the goods to follow. It is very important for the list to be accurate as goods that arrive later will only qualify for duty and tax-free importation under your entitlement if they are on your original list.
Upon arriving in Canada, you must give your list to the Border Agency officer, who will then complete Form BSF186, Personal Effect Accounting Document. You will need to present your copy of BSF186 to claim free importation of your unaccompanied goods when they arrive.
To facilitate the clearance process, the Canadian Border Agency suggest that you complete Form BSF186, Personal Effects Accounting Document prior to your arrival.
For additional information about the whole customs process, visit the Canadian Border Agency website.
Immigration Visa
If you are looking to relocate permanently to Canada, you will need to apply to one of Canada's immigration programmes. To get some guidance and check your eligibility, visit the Government of Canada website.
Finding a home
Whether you are planning on renting or buying a property, you can start looking at the property market in your chosen area right now from the UK. The following websites are the perfect starting points to see what is available and at what cost: www.realtor.ca, www.remax.ca, www.century21.ca and www.zoocasa.ca
To rent a property, landlords will request information about your ability to pay rent before offering you a lease: this will include a letter from your current (or most recent) employer confirming your annual income, some bank statements and references from previous landlords.
The service and price for household utilities in Canada varies from province to province as providers for most services are different in each part of the country. However, in general, utilities in Canada are not overly expensive
If you've decided to rent a property, utilities costs may be included in your monthly rent, but check before signing your lease.
Choosing a school for your children
Each provincial and territorial government runs its own education system, thus creating significant curriculum differences amongst jurisdictions. The Council of Ministers of Education, Canada website provides key information to help you choose the right school for your children. With more than 15,500 schools registered across the country, the choice is yours!
Healthcare
If you already have the Canadian citizenship or if you are a permanent resident card holder, you can apply for Canada universal healthcare system. Each province and territory has their own public health insurance scheme, so please visit the Government of Canada website for more detailed information.
Private healthcare insurance is available to cover additional healthcare expenses as well.
Moving your pets to Canada
Domestic pet dogs and cats entering Canada do not have to be quarantined.
Canada does not require a microchip or tattoo identification for dogs or cats imported as personal pets. However, dogs under 8 months of age imported under the commercial category (dogs for retail sale, breeding purposes, show or exhibition, scientific research, dogs in 'special training status', and dogs destined for adoption and/or animal welfare organization) must be identified by an electronic microchip.
Cats may enter Canada if they are accompanied by rabies certification. This means they must have a rabies vaccination certificate or a veterinary certificate declaring that the cat originates from a country recognised by Canada as being rabies-free. The UK is recognised as a rabies-free country.
Dogs and cats imported into Canada will have a documentary inspection by Canada Border Services Agency (CBSA) to ensure the vaccination is current and the animal description matches. During this visual inspection, CBSA ensures that there is no visible signs of illness.
In certain cases, dogs and cats imported will require a Canadian Food Inspection Agency (CFIA) inspection for which CFIA inspection fees apply. The fee must be paid at the time of inspection.
The current fees are CA\$30.00 + tax for the first animal in the shipment; and CA\$5.00 + tax for each additional animal in the shipment.
Importers should use the Automated Import Reference System tool to determine if a CFIA inspection is required.
If you have questions about importing an animal into Canada, please contact a CFIA area or regional office.
Driving in Canada
If you plan to use a foreign driver's licence in Canada, you should get an International Driving Permit (IDP) in the UK. An IDP will give you a translation of your licence into French and English. You must have it with you whenever you're driving.
To be on the safe side, it is worth having a look at the rules for international licence-holders in your chosen province or territory and ensure you gather the correct documentation before you arrive in Canada.
If you want more detailed information about car insurance and driving law in Canada, please visit the Government of Canada website.
Cost of living
Mercer carried out an extensive cost of living survey for overseas workers in 2018. The survey covers 209 cities and measures the comparative cost of over 200 items in each location, including housing, transport, food, clothing, household goods and entertainment.
The 2018 survey revealed that Toronto and Vancouver, joint 109th had the highest cost of living in Canada, followed by Montreal at the 147th place, Calgary 154th and Ottawa 160th.
In comparison, London ranked 19th and Birmingham 128th.
And before you book your one-way ticket, don't forget to visit the Gov.uk website which provides up to date advice for British nationals living in Canada.