Last minute checklist: The night before moving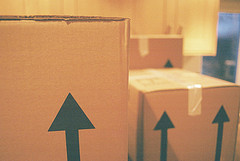 The evening before your big move can provide enough of a headache, especially with last minute panic and nightmare situations running through your head. Even if you've been sorted for weeks, the last minute nerves and panic may still be at the front of your mind. To ease your worries, have a quick look at our last minute checklist – it'll make sure the night before moving is as worry-free as possible.
Your moving day is going to be a long and arduous one, no matter how far or short your move is. Make sure you're well prepared for not only the drive to your new home, but the inevitable unpacking that follows on arrival. All your possessions will be packed up in advance of your move courtesy of Robinsons, but you still need to make sure you have a few essentials to hand for your drive. In this day in age, you don't need prompting to take your mobile. Most of us are inseparable from our smart phones; however the last thing you need in the case of an emergency is for your battery to die. Make sure you've charged it the night before, and even then, if you have an in car charger, make sure it is packed in your travel kit. It might be worth investing in an in-car charger for a couple of quid to ease your worries.
Bottles of water
Food and drink will be needed if your drive is a long one, and even if you expect to be in your new home within a couple of hours of setting off, you probably aren't going to be in a fit state to go to the supermarket, never mind begin cooking. Pack plenty of bottles of water for your trip, and make sure you have plenty of snacks to hand. Obviously, you'll have plenty of chance to stop off for food on the way if you need to, but it's always safer to be over prepared.
Prepare your vehicle
You'll be making the journey in your own vehicle, with our team sorting transportation for your actual furniture, so it's vital that you make sure your car is in the right shape for a long drive. Give your car the once over, from the engine to tire pressure – you don't want to leave anything to chance. Spending 15 minutes checking everything is in shape beats being stuck on the hard-shoulder of the motorway for hours.
Bedding and Pillows
Try and keep some items out of the removal truck as you may end up in a position where items that you need are tough to find. Things like bedding and pillows will be needed immediately for your first night in your new home. Having a spare set to hand means you can still have a night of sleep on arriving, even if you haven't done all your unpacking. If you have family travelling with you, especially children, make sure you have all items that they will need to be comfortable upon arrival. A whole new change of surroundings can be hard for younger children, so try and keep some things around to maintain some continuity for them.
Expensive items on the move
Precious, small or expensive items should be kept close by to you throughout your move. Don't throw everything into a pile for the removal truck when you'd be more comfortable having them in your possession. That being said, don't go over the top; there is nothing comfortable about a five hour motorway trip, whilst being cramped for space thanks to all your belongings.
Hopefully you'll get to your new place without any problems, and it'll all be plain sailing. Good luck, and we hope you've found our guide helpful. For any more advice on moving house or storage, check out our website.
Photo Credit: Nathan O'Nions via Compfight cc