Landmark millionth move takes place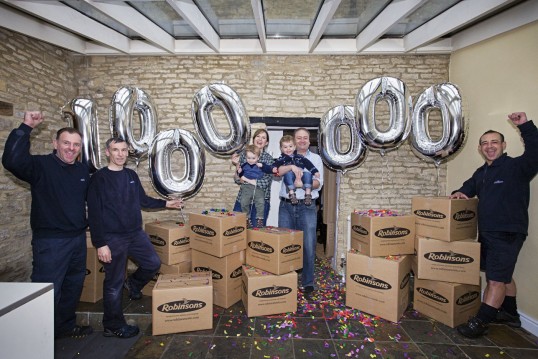 As you'll have seen, all last month we were gearing up for a huge milestone in our company's history; and now after hundreds of thousands of home moves, we've finally hit the million mark.
Moving house can be a stressful time, but for one Oxfordshire family, the experience took a surprise turn when they found out they were our  landmark millionth customers.
Philippa and Simon Worne booked their move with the from Chipping Norton to Great Missenden several weeks before their big day, however, it wasn't until the morning of their move that they discovered they were about to play a major part in our history by becoming our millionth customer since our founding more than a century ago in 1895. Our staff celebrated by laying on party poppers and balloons for the family – not to mention providing their £2,500 move for free!
Our very own Anthony Robinson, Managing Director, said: "A million moves is a real achievement, and is testament to our fantastic employees and a commitment to delivering great customer service. With multiple moves happening all across the UK, we weren't quite sure who our millionth customer would be. However, the Worne family are extremely deserving, and we're sure this has helped get their move off to a great start!"
Philippa Worne said: "Moving house is stressful enough, so it was a fantastic surprise to find out we were Robinsons' millionth customers and would be receiving our move for free. We really couldn't believe it, and Robinsons have been great to deal with throughout the entire moving process."
The Worne family found out about us through their estate agent, Charlbury-based Wychwoods Estate Agents. Tracy Colledge, from Wychwoods, said: "We always like to give our clients the very best level of service possible, and with the Wornes, that was no exception. However, we didn't realise our suggestion for a removal company would lead to this happening!"