Homeowners are choosing a property before getting past the hallway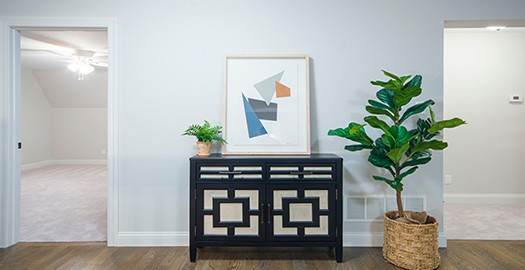 A new study has found that over 40% of home buyers are choosing a home before getting past the hallway.
The research, carried out by online property website Rightmove has revealed that most buyers are making their decisions quickly based on their first instincts as opposed to thinking it through.
After questioning 3,000 customers the survey announced that 30% admitted to making their minds up on arrival after setting foot through the front door. Whereas, 8% admitted that they decided on a property after viewing it online and only 4% decided on a home after seeing the advertisement in a newspaper.
Housing experts at Rightmove have stated that the results underline the "narrow time frame" that sellers have to make the right first impression.
With property prices at their highest and people buying quickly, this could suggest that the current economic climate is improving as people are not as reluctant to part with their hard-earned cash.
Miles Shipside, Rightmove Director said on 24dash.com: "It's strange to think that one of life's most important purchasing decisions can be made before going past the hallway. Nothing stirs the emotions of the British public quite like home-hunting and many buyers already have a picture in their heads of their 'dream home' as they begin the property search process. When a property ticks all the right boxes straight away, many buyers can make quick, emotionally-led decisions."
If you are looking to move and sell your property, this research proves that the exterior look of your home and your front door and hallway really impacts on a buyers decision and is therefore an area that needs improving.
If you are planning on moving house, contact the experts at Robinsons today for a professional and hassle-free move.
Photo Credit: Pexels