Expat City Guide to Helsinki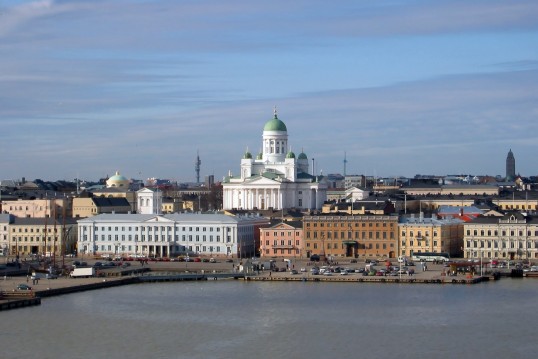 Contrary to popular belief, there is far more to Finland than reindeers and forests. The culturally-diverse city of Helsinki acts as the capital of Finland as well as being its largest city. Its popularity amongst foreign companies is evident with 70% of them choosing to settle in Helsinki, and it's not difficult to see why. With plenty of jobs, that means there is ample opportunity to head over and set up an expat life in the nation; so if you're planning a move to Helsinki, here is our guide to the city.
Weather
Finland is known for relatively consistent weather year in, year out. One factor that often seems to deter expats from the nation is the lack of sunlight during the relatively harsh winter months. However, rather than seeing it as a drawback,  locals see the extreme weather as an excuse to embrace their  passion for snow sports, including snowboarding, ice skating and cross-country skiing. However, it's not doom and gloom all year round, as their blinding summers offer much longer days than we're accustomed to; offering only a few hours of darkness per day, temperatures can reach up to an average high of 22 degrees.
Travel
Navigating a major city is never easy, however in Finland, public transport is highly efficient. Also, in Helsinki, only 390 out of every 1000 inhabitants own cars; a considerably lower figure than many other cities with the same population density, meaning public transport is a vital aspect of local life.
Arts and Culture
With over 140 different nationalities represented in the same city, Helsinki is brimming with arts and culture. The Finnish National Gallery consists of three separate museums including Ateneum Art Museum for classical Finnish art, Sinebrychoff Art Museum for classical European art, and Kiasma Art Museum for modern art -meaning there is plenty to feast the eyes on.
Similarly, the crisp city air is rich with different musical styles, with their elaborate music venues including the Finnish National Opera, the Finlandia concert hall and the Helsinki Music Centre. Helsinki is also the proud home to two full-size symphony orchestras: the Helsinki Philharmonic Orchestra and the Finnish Radio Symphony Orchestra.
Housing and Education
As is often the case with a capital city, the sheer size is quite a draw, meaning people of Finland will often relocate to the capital. Onme benefit of the city comes through it owning over 56,000 housing units, all of which are of a fairly reasonable price with one in six Helsinki residents living in rental units, which roughly amounts to 90,000 people.
Finland's education system proudly doesn't charge tuition fees whilst also serving full-time students regular meals. Introducing children to a basic nine year education system, they are then given the choice to take on a three year vocational track or a three year academic track.
Helsinki itself is home to 90 comprehensive schools, 15 vocational institutes, and 41 upper secondary schools, half of which are private or state-owned and the remaining half municipal. Helsinki also offers high education with a choice of up to eight different universities.
Language and Lifestyle
As the global gateway of Finland, the majority of the Helsinki population speak Finnish (81.9%) and Swedish (5.9%) with the remaining 12.2% speaking predominantly  their own native language, (making English relatively commonplace)
As a place to reside and set up home, Helsinki is most suited for the introverts among us. Small talk is not a common aspect of everyday life, with many of the residents choosing to not directly express their feelings, making small talk between strangers rare. However, it's important not to mistake their quiet behaviour for rudeness, as when it comes to manners and punctuality the Finnish take it very seriously, in both social and business situations.
Image credit: en.wikipedia.org