Destinations for a happy expat life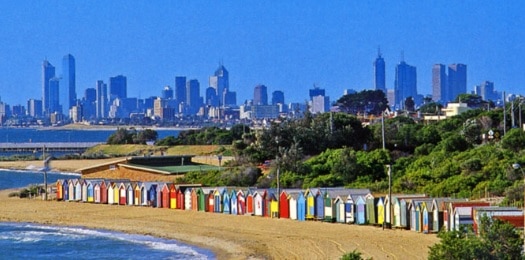 If you're pondering the big step of moving abroad for a happier life, this may be of interest. Every year, companies attempt to put together reports into the happiest locations to live around the world – taking into account a number of factors such as quality of life, economy, education and so on. Whilst the results don't always come out exactly the same, there are a few nations who consistantly seem to get it right. If you're wanting to spread your wings and enjoy a new life in a far flung location, here is our very own assembled list of the world's happiest nations.
10. Australia
With some of the best beaches on the planet, stunning architecture and weather to die for in most areas, it is hardly surprising to see Australia on the list. From the big city feel of Sydney to the cool cafe culture of Melbourne, our only surprise with this result is that Oz didn't come in higher than tenth.
9. Iceland
One of the nations that gives access to the northern lights, whilst also offering activities such as whale watching, skiing, hiking and visiting volcano sights, it's hardly surprising to see Iceland included on this list. The first of many Northern European countries to make the top 10, the beauty of Iceland makes up for the frequent cold weather.
8. Austria
Austria is a great ski destination, and many Brits flock there over the winter months for a holiday, however if you up sticks and take permanent residence in the nation, you're all set for a happy few years. With vibrant cities like Vienna and tourist retreat hotspots such as Halstatt, there's plenty of reason to choose Austria.
7. Finland
With successful schools and a great quality of life, Finland slides into the list at a respectable seventh place, however amazingly, it is the bottom of all Scandinavian nations, the rest of which appear at slots five, two and one.
6. Canada
Depending on location, temperatures in Canada can fluctuate between highs of 30 degrees Celsius in summer to below freezing in the winter, however if you love to feel the heat and enjoy the snow all in one year, Canada is perfect for you. Similarly with other destinations on the list, Canada has some of the world's best ski facilities and national parks, perhaps adding to the overall happy feeling generated by the nations inhabitants.
5. Sweden
Planning to make Sweden your new home? Make sure you're ready for an outdoor-style life. Maybe you won't find everyone has a love of the great outdoors, however for the majority of the year, Swedes find activities to enjoy, come sun, rain or snow. If you're after a quick break away too, you don't have far to look, with the rest of Scandinavia all ranking on this list.
4. Netherlands
A land of blooming flowers, beautiful countryside and more cyclists than you can imagine, the Netherlands earnt fourth place on the World Happiness Report. With a great transport system and cycling lanes in abundance, it sounds like stress is at a minimum for travellers in the Netherlands.
3. Switzerland
Taking residence in Switzerland allows you to enjoy stunning scenery, beautiful parks and outstanding museums in the nation's major cities such as Zurich and Geneva. If you like a high quality lifestyle, then Switzerland might be the place for you. Be aware however, that moving to Switzerland may come at a cost with both aforementioned cities making the top ten most expensive living locations.
2. Norway
There must be something in the water around Scandinavia that makes people particularly happy with life. Although the cost of living in the area is rather pricey for certain products, such as a pint of lager costing a fraction under £7, with a high level of life satisfaction, and neighbouring countries being numbers one and five on the list, Scandinavia is clearly doing plenty right.
1. Denmark
Topping the chart for the second consecutive year, Denmark evidently ranks well in the happiness criteria of providing a nation with a large GDP per capita, healthy life expectancy at birth, a lack of corruption in leadership, a sense of social support, freedom to make life choices and a culture of generosity. With generous support to parents and a strong healthcare system, along with simpler things such as active lifestyles in which cycling is heavily promoted. Whether you're planning a holiday to a major city like Copenhagen or want permanent residence somewhere smaller and more quaint, choosing Denmark seems to be a safe bet if you're after a high quality of life.
Photo Credit: antonyspencer via Compfight cc