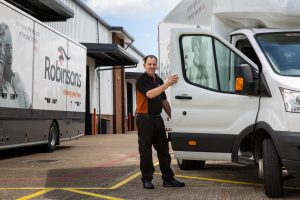 Got a storage issue? We have the solution.
We're here for when space runs out, things have to be left behind, or your current storage system just isn't cutting it anymore. Whether you're moving house or not, our storage facilities will suit your needs. Our options are competitively priced, located throughout the UK, and available for long or short term use. Should you require your goods to be returned at short notice, we'll give you quick and easy access to your container. We offer furniture, car and commercial storage at flexible rates.
Storage process
With Robinsons, storage is a hassle-free process. We do it in just four steps:
A Robinsons consultant will visit your home. They'll give you a free, no obligation quote for packing, removal and storage.

Our specially trained crews will carefully load your belongings into our containers. An inventory for each container will be made.

Once they reach your nearest branch, the containers will be kept in the warehouse. All eight of our UK branches offer short and long term storage, so you can choose the location that's convenient for you.

You're welcome to inspect or collect your possessions during our office hours. Alternatively, we can return and unpack your items for you.
Transport
When it comes to moving your items to storage, you can count on our purpose-built vehicles. Operated by our trusty removal crew, our vehicles provide a safe, reliable journey for your goods. Whether you're moving important documents or beloved family furniture, we'll transport your goods safely and efficiently.
They're not just any old vehicles either. Robinsons lorries are designed to accommodate specific storage containers. Our fully-trained team are also specialised. They'll drive the containers to your house, and then carefully load your items into the containers. After securing the containers to the vehicle, they'll drive your goods to our secure storage facilities. With Robinsons, you can safely accommodate your possessions without even leaving the house!
Packing
We'll load the containers while you put your feet up. Our team are trained to pack safely and strategically. However, if anyone knows your possessions best, it's you. With this knowledge, we pack all containers under your supervision. We also provide a full inventory for each container.
Protection
We understand that entrusting your goods to someone else can be stressful. Therefore, we make sure our storage facilities are clean, dry and well protected. For that extra peace of mind, we equip our centres with security alarms, pest control and fire reporting systems. For goods in storage, it is essential that they are covered with a fire insurance policy. This can be arranged by us on your behalf. Unless we are instructed otherwise, we will automatically insure your effects to the value of £50,000.
SmartStore
If you're looking to store items and sell your house, we'll offer you our SmartStore offer. It's a low-cost storage offer which could help you sell your home while saving time, money and hassle.
Find your nearest Robinsons branch.
More about

International Removals