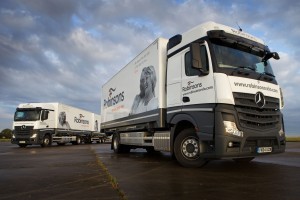 With the planning and preparation complete, it's time to turn your new house into a home. Before moving day, we'll calculate the type of vehicle(s), number of staff and timing schedule needed for a stress-free move.
Robinsons are a long-established business with an equally long-established reputation. We aim to provide a service that you would proudly recommend to friends and family. Here are a few things that set us apart from other companies:
Project Management
Along with a Move Manager, you'll also have a dedicated Project Manager. Among other tasks, they'll make sure you're happy after the move, ensure your belongings go into the right rooms at the other end and keep the removal crew up to speed.
Removal Crews
All our crews are fully trained and employed by us. This means they work carefully, reliably and efficiently on The Big Day.  For instance, if your crew is held up in traffic, they'll call to let you know where they are and how long they'll be. There'll be no hassle; your nominated crew will make sure of that. See for yourself – observing our coordinated team handling your goods will leave you feeling secure and comforted.
Removal Trucks
We believe that man and machine should work in harmony. Therefore, we use the best vehicles available. Our trucks are purchased new, purpose-built and equipped with air ride suspension. They also use ultra-low emission engines.  Robinsons keep your goods, and the environment, safe.
To make moving convenient for you, we choose the right vehicle for your needs and pre-plan vehicle access. Costs are kept to a minimum and any last minute issues are avoided.
Completion Date
No one likes being rushed. We ensure that you're out of your home with enough time to meet the agreed completion date. We've even thought about what happens if you reach your new home and the other lot haven't moved out yet! See our late key waiver.
More about

International Removals