Different New Year Traditions from Around the World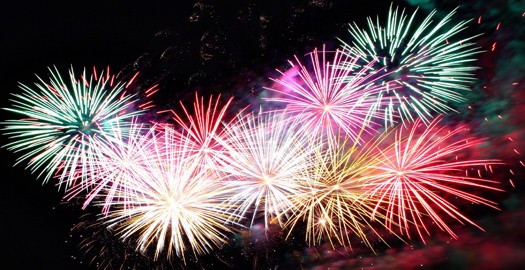 As the clock strikes midnight around the UK on December 31st, we can generally have a good idea of what celebrations and traditions will be undertaken. From sipping champers and kissing party guests, to watching extravagant fireworks and singing Auld Lang Syne, we don't tend to push the boat out with anything overly excessive. Depending on your location around the world however, New Years rituals obviously vary. We take a look at some of the more extravagant and different celebrations as the clock strikes midnight to bring in the new year.
Spain
At midnight on New Year's Eve, Spanish custom dictates that you should quickly eat 12 grapes, synchronised with the midnight clock strikes to generate supposed good luck for each month of the coming year. As is the case with many world cities, in Madrid, Barcelona, and other major areas, revellers congregate in the main squares to enjoy their grapes together with celebratory drinks and displays of fireworks.
Finland
Everyone would love to know exactly what the coming year has in store for us, however in Finland, this is taken to the next level. It's a long time Finnish tradition to predict the coming year by casting molten tin into water, and proceeding to interpret the shape the set tin takes after solidifying. Example 'fortunes include a heart or ring shape symbolising a wedding in the New Year; a ship shape predicts a year of enjoyable travel; and a pig shape signifies food will be in plentiful supply. That's the tradition, however we aren't quite privy to how successful the ritual proves.
Denmark
If you're looking for a 'smashing' tradition to bring in the New Year, then Denmark is the place to head. Danes ring in the New Year by hurling old plates and glasses all in the name of love against the doors of friends' and relatives' houses. They also stand on chairs and then jump off them together at midnight. It might not pass health and safety checks, but leaping into January is supposed to banish luck for the forthcoming year.
Japan
If you're sticking with traditional Japanese celebration, then you should expect to see fancy dress. Those faithful to New Year tradition dress in a costume for the big evening, with the forthcoming year's zodiac animal being the outfit of choice. For a 2014 Japanese celebration, don your best horse outfit and head to the local temple to enjoy the 108 bell chimes that signify Japanese New Year.
South Africa
It may not be as dangerous throughout the whole of South Africa, however if you plan on a Johannesburg New Year Party, then keep your head up! Locals have been known to throw old appliances, such as TV's and other gadgets out of the window! Being hit by a flying appliance isn't the ideal way to bring in 2014, so stay aware!
Photo Credit: Pexels