Christmas around the world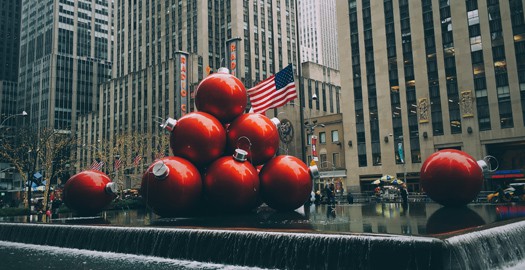 You may have experienced a traditional British Christmas throughout life, but if you're looking to move abroad, you'll need to begin the process of adapting your mindset when it comes to Christmas. You'll be surprised as to how Christmas changes as you move around the globe. From picture card snow scenes to blazing heat, we look at three world locations where Christmas may be a little different.
New York
Even the most hard pressed of tourists would find it hard to deny that New York City over the Christmas period is truly magical. New York is never quiet, but the added buzz that surrounds the city makes it a great place to be and live near over the festive period. Decked out with some of the most impressive decorations, from Rockefeller Plaza's Christmas tree and ice skating rink to the seasonal red and green lighting of the Empire State Building, the major landmarks are worth the trip to Manhattan to see from your New York State location.
Central Park carriage rides are never more idyllic than in the cold, frosty months, and if accompanied with a fluttering of snow, the area is a quiet Christmas haven in the worlds' busiest metropolis.
Sydney
We don't get it in the UK, but if you're an expat in Sydney, you should be expecting some serious warmth as you celebrate your summertime Christmas. For something completely different, and a new way of spending your day, many head to Bondi Beach to enjoy the sun, surf and Santa hats that the world famous beach offers.
One culture change that the weather may enforce on you for the big day is an adaptation of the traditional menu. If the searing heat doesn't put you in the mood to slave over a hot stove preparing meat and all the trimmings, take the Aussie approach and barbeque some seafood.
Dubai & Abu Dhabi
Similarly to in Aus, the United Arab Emirates will provide an altogether different climate for your Christmas. With Celsius temperatures in the low to mid 20's, Dubai and Abu Dhabi are locations where you can enjoy the local area throughout December without having to wrap up in unbearable amounts of warm clothing. Enjoy the beach or city through the festive period, as opposed to confining yourself to the fireplace, as would be the case in the UK.
If this sounds like an ideal Christmas however, take note, as some UK traditions may not be welcomed, due to the stringent law system in the UAE. British embassies in both Abu Dhabi and Dubai have this year launched an awareness campaign highlighting areas in which Brits may need to be cautious, including 'buying and consuming alcohol, UAE's zero tolerance to drink driving, posting photos on social media and to avoid any behaviour that can be labelled as anti-social.'
Photo Credit: Unsplash