Christmas dinner around the world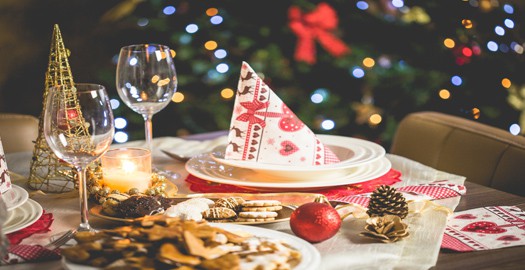 Spain
As would be expected with the Spanish, the Christmas meal is a true banquet, encompassing a large number of courses. Predictably, the first course includes small tapas dishes, with meats such as chorizo, along with local cheeses. Somewhat similar to the British prawn cocktail course, the Spanish will usually opt for a second dish of seafood, with many devouring local king prawns in a seafood dressing. Soups are regularly consumed in between larger courses, and as can be expected at a banquet of this proportion, regular gaps between courses often occur. The main course is often built around meat and poultry, which is accompanied by potato and rice dishes rather than the typically British side of vegetables. If that wasn't enough, the meal, which often is spread over a few hours is finished off with desert.
USA
Christmas dinner in the States derives from a traditional British Christmas dinner, however it has, over time adapted to have a taste of its own. With Thanksgiving celebrations taking place just a month prior to Christmas, the Turkey has become defunct as a festive meat, instead becoming a mainstay of the American Thanksgiving dinner. Instead of having the big bird as the meal centrepiece, it is common to see other meat on Christmas day, such as roast beef and ham, however don't be surprised to see more exotic birds such as goose and duck used. Vegetables are similarly utilised on both sides of the Atlantic, as is stuffing. However, if you're stateside and looking forward to your Christmas pudding to finish things off, you're going to be left disappointed, as it won't be appearing on many menus. The likes of pumpkin and apple pie along with other cakes are more likely options for Christmas day desert in America.
Australia
Whilst a traditional Christmas dinner followed by pudding can be found in Australia, it is often the case that, due to the summer heat, spending a morning slaving over a hot stove cooking isn't undertaken. Instead, many families go with a more picnic-style dinner, and whilst it might seem rather stereotypical in thought, many Australians do spend Christmas day at the beach, with Bondi Beach in Sydney's Eastern Suburbs attracting thousands of people on Christmas Day. In excess of 30 degrees Celsius and a barbecue on the beach, now that is a long way from the warmth of a roaring fire and a full turkey dinner.
Canada
In English Canada, Christmas dinner is similar to that of colonial ancestor England, as well as to its neighbour the United States. A traditional Christmas meal centres on turkey with favourites such as stuffing, vegetables, gravy and cranberry sauce. Eggnog, a more American influenced milk-based drink is often infused with alcohol, and is drunk regularly around the holiday season. Seasonal treats include the likes of butter tarts and shortbread, which are traditionally baked before the holidays and distributed to family and friends.
In French Canadian areas and regions, some French influences and recipes are also incorporated over the festive period.
New Zealand
Another former British colony, it is hardly surprising to see that the New Zealand variations on Christmas dinner are relatively few. Due to the predominance of lamb in the country, this is often a meat utilised as part of dinner on the big day, however not many changes are made from UK to NZ. Due to taking place in the summer months, Kiwi's often incorporate barbecuing into the day, and from time to time can be seen opting for lighter desert dishes.
Photo Credit: Pexels