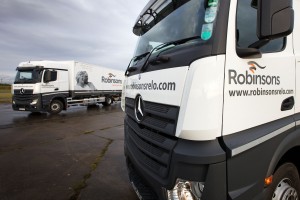 Throughout our rich history, we've always adapted to changing times and changing needs of our customers. Some things haven't changed though. We're still focused on providing our customers with what they want: a fast, convenient, reliable and professional service that makes use of the latest materials and technologies.
We're still leading the removals industry and innovating in order to better meet the individual needs of our customers, and we're still run by the family of our founder, Alfred Robinson.
All of our staff at Robinsons are wholly employed by the company and fully trained. This ensures that each member of the team is courteous, helpful and professional throughout the business – from our warehouse team to our Managing Director.
What sets us apart in the industry is our customer-focused approach. Excellent customer service is at the heart of everything we do – when we devise processes and systems, we think about how to benefit our customers first, and then how it will work operationally for the business. We take quality very seriously, and put those high standards into practice across every area of the business:
We are a founding member of one-group, the pan European relocation and moving alliance which currently counts 15 members strategically located in the 46 major cities in Europe.


As such, we offer our customers comprehensive moving solutions via air, sea and road transport.  Our services are carried out by our professional teams of packers across Europe, with the same standard of quality maintained by all members.

We have won many gold industry awards over the years and in 2000, Robinsons was also one of the first companies in the UK to achieve accreditation to

FAIMPLUS

, the only independently audited quality programme of its kind in the international moving industry.
These memberships and awards not only demonstrate our commitment to quality, reliability and flexibility, they also provide our customers with assurance we're delivering a valued and professional service. For more information about the trade associations we belong to, see Robinsons' accreditations.
More about

International Removals