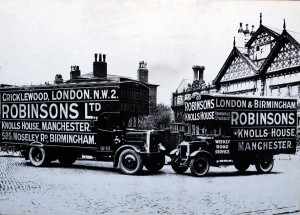 We've been helping people move and store their personal belongings for more than a century. Alfred Robinson, the current Chairman's grandfather, started out in 1895 as a coal merchant in Manchester but faced with stiff competition and an increasingly saturated market, he decided to use his assets – his wagons and horses – to move in a new direction: removals.
This turned out to be a shrewd move, and by the mid-1920s Alfred had grown the business to four branches: one for each of his sons to manage in Manchester, Birmingham, Bristol and London.
Shortly after, our innovative Birmingham warehouse was purpose-built. Way ahead of its time, it featured Europe's first vehicle lift to make loading and unloading more efficient. The Bristol and London warehouses quickly followed suit.
This Birmingham building was bombed during World War II but thankfully, due to staff taking the precaution to fill the roof with 20 tonnes of sand, all of our buildings and clients' stored items were left undamaged.
In the 60s, the current chairman Peter Robinson saw an opportunity to help the growing number of people emigrating from Britain to Australia and created Robinsons International Removals as a new branch of the business.
More recently, we've purpose-built warehouses in Manchester, London, Birmingham and Basingstoke, pioneered the use of Move Managers and expanded internationally to answer a rising need for a professional relocation service.
More about

International Removals