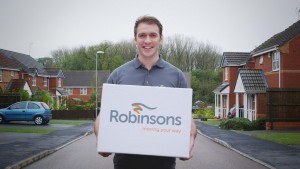 If you enjoy working for an organisation that thrives on values such as teamwork, integrity, responsibility, encouraging personal growth and celebrates achievements, then we think you would enjoy working for us.
Working At Robinsons
In the same way that the moving experience is not just about providing the right type of removal vehicle or the right type of packing material, working for Robinsons is not just about providing the right desk or company car – it's about the friendliness, commitment and dedication of our people. That is why we remain one of the most trusted names in moving, as well as one of the most genuine companies to work for.
Whether your interests lie in finding a practical hands-on role working locally or in different locations across the country, or you enjoy providing a real moving solution to customers, the opportunities at Robinsons are as diverse as the people who work here.
We are looking for people who have good communication skills together with a friendly personality and 'can do' attitude, common sense, the ability to work in a team but also show that little bit of an entrepreneurial spirit, commercial awareness, energy, resilience and adaptability. But above all, we are looking for people who believe in really looking after our clients and putting that into practice.
Current Vacancy
We currently have no vacancy, but if you are interested in future opportunities please feel free to send your CV to recruitment@robinsonsrelo.com.
More about

International Removals