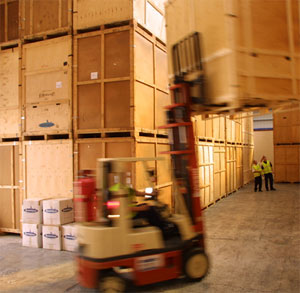 Robinsons have developed the ideal storage system to ensure maximum security and protection.
We use purpose built vehicles specifically designed to accommodate our storage containers. These containers are already in the vehicle when it arrives at your home. Your furniture is wrapped for protection and placed inside the containers. An individual inventory for each container is made as each item is placed in to the container.
Your possessions will then be sent to your nearest Robinsons storage centre where they are transferred to the warehouse for safe keeping.
You are welcome at any time to visit our storage centres to see exactly how your possessions are stored.
We will ensure:
All containers are packed under your supervision
A full inventory of containers is provided
Containers are off loaded directly into storage – minimising handling
Safe, secure storage facilities
Long or short term storage options
Insurance
Containerised storage is especially useful for:
Short or long term storage of home contents to avoid breaking the moving chain
Storage of contents during renovation works
Storage of surplus belongings when downsizing home
Storage of home contents whilst overseas