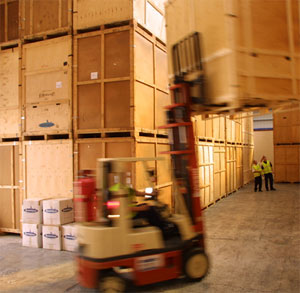 Storage is an excellent solution for keeping hold of all the treasured or surplus items you have, which simply don't fit into the style of your new home. Rather than filling your storage space in the new house with items that you don't need, storage is a great way of retaining items but keeping your house free of clutter.
We also offer a home de-cluttering service. What better way to get the best price for your home when it comes to selling, than to make your house look spacious by putting the clutter into temporary storage.
We appreciate that the decision to keep items in store is often influenced by price. It is worth noting that people who use a removal and storage company in preference to self- store options, usually save somewhere between 30-35% over independently sourcing self-storage.  No one wants to spend their weekend sorting out van hire, arranging furniture for packing and then having to unpack at the other end.
We make storage completely hassle free by collecting, packing and storing your goods for as long as you want us to. We have storage centres at each of our branch locations, so you can be confident that your goods are stored safely and securely at a branch local to you.  You can access your goods at any time – all we need is a phone call in advance to make sure a member of staff is available to help you.
Full details of our storage services can be discussed during your home survey, via your local branch, or speaking to your Move Manager, who will be very happy to help you.