Moving or shipping to Australia? No worries!
Relocating to Australia can seem pretty daunting. But get the right professional help from people who know the ropes and you can concentrate your mind on the exciting prospect of a new life in the Aussie sunshine.
Contact us today for more info
How long does it take to ship my belongings to Australia?
Of course, emigrating to any new country has its own potential pitfalls, and shipping to Australia is no exception. For a start, how long is it going to take? For a Full Container Load, you can expect a door-to-door transit time of 6-8 weeks. A Shared Container Shipment – known as groupage – will almost certainly be cheaper, but will take longer, 10-12 weeks door-to-door.
What can I take with me?
You will of course want to know what personal and household effects you can take with you, which ones you might have to pay duty or tax on, and which you cannot take into Australia.
Take a look at the latest Australian Customs Guide
For example, you can import any household goods and personal effects that you have owned and used for 12 months or more before you depart for Australia duty-free. But they can ALL be subject to a physical examination by the Australian Quarantine Inspection Service (AQIS), carried out in AQIS approved premises.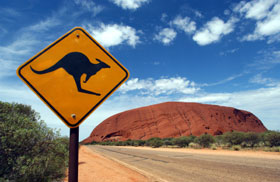 Such an inspection can hold things up for up to 14 working days after the consignment has arrived. Because of this inspection full containers are not and cannot be delivered direct to residence. There are standard charges for AQIS inspections based on the volume of the consignment, so make sure your removals company quotes for these separately prior to shipment.
But what items are most likely to attract the interest of AQIS? Certainly any items that may have come into contact with the soil or vegetation – not just the obvious things like garden tools and garden furniture, bicycles and camping equipment, golf clubs or cricket bats, but shoes, boots and any outdoor sportswear. There are also vacuum cleaners and anything containing dried vegetable matter, such as pine cones and wreaths within Christmas decorations.
It's essential that you thoroughly clean such items before you depart, and it may be worth considering other treatments such as fumigation and/or steam cleaning – again, get advice from your removals company about this. But even then, AQIS may still at their discretion order further cleaning or treatment, which will incur additional costs.
Can I bring my car?
All motor vehicles are subject to Customs Duty and/or Goods and Services Tax (GST). Before they can calculate the amounts, your removals company will need to establish the date of purchase of the vehicle and the original purchase price. For vehicles less than 30 years old, both Customs duty and GST are charged at 10%. For vehicles over 30 years of age, there is still 10% GST, but no Customs duty. So won't that save you a few dollars on your vintage car collection? Well probably not actually – because there's an additional Luxury Car Tax (LCT) at 25% applied to vehicles exceeding a certain level, currently A$57,009.
There's no Customs Duty on a Motor Cycle, but GST at 10% will apply. You must obtain import approval prior to shipment, otherwise your vehicle will be re-exported or destroyed, as well as facing a possible fine of up to A$13,000. Incidentally, you also need to get import approval for such items as ride-on mowers, quad bikes, motorised scooters and mini motorbikes.
Can I Bring My Pets?
As far as your pet's concerned, the best advice is to go to the website; Taking Dogs, Cats and Other Pets to Australia - www.affa.gov.au. Suffice it to say that as long as you follow the correct procedures, you won't be separated from your pet for too long.
Don't worry if it all sounds complicated, because your removals company will cover all of this. The important thing is to make sure the one you choose is reputable, and get them involved as early as possible. They know exactly what needs to be done, how and when. Look for a BAR Bonded company – it's the international removals industry's equivalent of ABTA or ATOL in the travel business, a sign that you're covered.
Removals to Australia with Robinsons
At Robinsons, we are highly experienced in this field, and have a specialist dedicated international division on hand to advise you of everything you need to do, pack and fill in. We will appoint a dedicated Move Manager to you, who will look after your move from start to finish, right to your new Australian front door!
The first step to get you on your way is to obtain a free, no obligation quote.
Robinsons International are members of FIDI and OMNI, international trade associations, which means that our overseas partners operate to the same high standards. It's your reassurance that the quality of service provided in the UK is matched by that provided by the agent at the other end in Australia.
Whatever the particular demands of your move, it's likely that we have come across them many times before! We've been asked most questions over the years, although there's always something new. Our advice is, first make sure you get 2 or 3 quotes for removals to Australia, and make notes about each company you speak to, so you can be sure who promised what, and that you are comparing like with like. Check the volume and service quoted on, and be careful of the transit times quoted.
Contact us today for more info
Some other useful sources of information include: