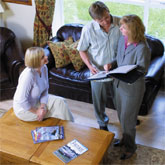 Read what our customers have to say about their experience with Robinsons.
My wife and I would like to express our very grateful thanks for the most efficient and effective way your people carried out our move. They were all polite, caring and most considerate in their work including those who were summoned to provide additional assistance for the unloading. Please pass on and express our gratitude to everyone involved.
Viv & Graham Yates – December 2014
Just a quick email to say a Massive thank you to your 3 men who moved us and to your company! Mike  Martin and Fraser were professional and went way beyond my expectations.They helped so much and were courteous throughout.
I would like this feedback passed on to them and to management that they are a credit to your company which i will highly recommend to others.
Lesley & Anthony Hall – December 2014
A very professional service and excellent attention to detail from start to finish. Prompt customer service at head office and follow up emails provided confirmation of survey timings, costs involved and details of the move.
On the day, great teamwork was shown, as was great care given to all the packing and delivery of items. I would highly rate Robinsons as a company to work with.
Sam Stone – June 2014
I just wanted to drop you a line to say that our move from Harwell to Highclere and my daughter's move to our house went very well.  The teams that we had were marvellous, nothing was too much trouble for them – and they carried out the job in good spirits!
They were always professional in their approach to what they had to do.
Kind Regards
Sally Wrigley – June 2014
What a great team Phil, Richard, Simon and Paul were. They worked so hard, and not a thing broken. Robinsons are lucky to have them.
John & Jan Turner – May 2014
Just to say a big thank you to Phil, Terry & Rob who did a great job today….they were really nice guys ….Robinsons should be proud of them!
Would be very happy to have them for the next one!
With thanks
Sarah & Steve Fernback – March 2014
The removal team arrived on time yesterday morning and were so polite, helpful and understanding.  Nothing was too much trouble for them and my wife and I are very happy with how we were treated.
I cannot write this without saying a massive thank you to you.  Your help and understanding when I was at my lowest ebb last week definitely helped and I am so grateful to you for your kind support.
Again, thank you for all you and your colleagues have done for us.
Kind regards,
Georgia & Bill Williams – February 2014
Robinsons have been & dropped off boxes & can I also say how great you all are, which is why we booked you again!
Kind regards,
Vikki Finney – January 2014
We would like to send our thanks to the removal team who handled our recent move to Norfolk, and to the admin staff for the smooth way everything came together on the day.
I know that the guys were somewhat daunted by the machinery in my workshop, and thought it rather more than they were expecting.
However they did the job very efficiently and with good grace.
I have many friends in the south of England, and if any of them are planning a move we will certainly recommend your company.
Best wishes for 2014
Alex & Yvonne Woollard – January 2014
I just wanted to write to thank you and your wonderful team of removal guys who helped us moved out of our house.
I really cannot emphasis enough just how pleased I was with the whole service from Robinsons.  From start to finish you were all professional, reassuring and kind.  With the turn of events resulting in us exchanging and completing on the same day I valued greatly the calming influence of your removal men and their commitment to getting us moved and within time.
In particular, Phil who seemed to be heading things up with us was extremely helpful.  He was calm and professional but very kind and reassuring throughout the whole process.  When more hands were needed, they came, when more vehicles were required, they came and when time was getting tight once again Phil took control of things and it got sorted. His work ethic is a real credit to your company.
The whole process from removals point of view was seamless, professional, value for money and most importantly compassionate.  My husband and I completely appreciate all your help from the office staff to the men in the vans and wouldn't hesitate to recommend your services time and time again.
Many thanks,
Louise Trodd – January 2014
We would just like to say thank you to the guys who moved us the last couple of days. Being flooded on Christmas Eve, having to move to rented accommodation and the impending rip out & re-fit of our house has been (& will be very stressful) but your lads made our move hassle free and we thank them for that.
Hope to see them again in six months time when we move back.
Regards
Dave Marr  - December 2013
Many thanks for your help yesterday.
We were unfeasibly delighted with the work ethic and helpfulness of John, Baz and Taff, and we thought they did wonders both for our move and for Robinson's reputation. I would have no hesitation in recommending your services to any friends or colleagues.
Kind regards,
Tom Arbuthnott – December 2013
Just wanted to say a huge thank you to your team. The guys that helped us move did a wonderful job.
We will definitely recommend you to others in the future.
Kind regards
Maria Davies – December 2013
What a wonderful crew, the whole experience was nothing like what I was expecting, it was a breeze.
They were helpful, friendly and very hard working, they didn't stop!
Mrs Waters – November 2013
I'd like to feedback on the great work and service we received this week.  It was very stress free and the packers were very efficient and professional.
Thank you for your guidance and help
Kind regards
Jodie - October 2013
Dear Alison,
Thank you very much for your help with our move.  We had a very good experience yesterday and were very happy with the team you sent.
Thanks,
Ashley Highmore – April 2013
Thanks Suzanne,
The guys from Abingdon were excellent and made the entire day stress free! I can't recommend them enough and if anyone I know is moving I will certainly recommend Robinsons.
Best
James Ritchie – April 2013
Hi Suzanne,
I wanted to thank you for the move yesterday. Everything went so smoothly and much to my surprise, none of the furniture needed taking apart! Dave and James were great. I will definitely be recommending you to everyone.
Thank you again!
Alex – April 2013
Claire,
As you know I've used Robinsons before –  I was so impressed the first time around I had no hesitation!
I was highly delighted with the outcome. The team that moved me on the 27th performed and behaved exemplary and were a real credit to Robinsons.  I shall always recommend your services.
Regards,
Mark Davison BSc FCA – March 2013
Suzanne
Just a quick note to thank you and all at Robinsons involved in our recent move. It all went like clockwork and the two lads who did the actual move were superb.
Many thanks all round.
Michael and Madge Clayton – March 2013
Hello Joanna
I just wanted to thank you for the excellent service you gave to me, from October 2012 / February 2013 every detail of your service was carried out to the highest standard, I was treated with care and support.
Kind regards
Sue Fraser – March 2013
Suzanne
Just a note to say how smooth everything went with the move. Both the Abingdon team who packed at Greenholt and the actual removal team  from Bristol both did a superb job with extreme efficiency and friendliness.
They all worked very hard and we most appreciated their efforts.
Please convey our gratitude and thanks to all at Robinsons.
Best Regards
Valerie and Bill Cummins – March 2013
Tracey
No problem I will gladly fill in the questionnaire.  I would just like to say that John, John and Gary who helped me complete my move made the whole experience much easier than it could have been and were, without fail, courteous, helpful and polite.  I only hope that when I ring you to sort out my next move they will still be available!  Please pass on my thanks and appreciation to them for being such a great team and making the move a relatively stress free event.
Kind regards
Daniella Budd – March 2013
Dear Alison
Annemarie has told me that the furniture arrived and everything went very smoothly, thank you very much indeed, I will recommend your company to anyone moving house.
Yours sincerely
Veronica Beeny – March 2013
Claire – just wanted to say how impressed we were with Robinsons and especially our removal team. Not only did you rescue us at such short notice - the team were friendly, approachable and professional in all they did on packing and moving day.
It helped make our very stressful move a lot less stressful when the packing and move was being done.
The packing was was fantastic – and while we have a quite a few things still in boxes – nothing so far is broken!
Many thanks again.
Laura Baker and James Hodgson – March 2013
Lovely, helpful and efficient staff. Brilliant service by Robinsons, thank you.
Jane Bonham – January 2013
From start to finish your team were absolutely fantastic. Very efficient, very hardworking, polite and pure gentlemen. Well done team Robinsons!
Tania Gaud – January 2013
Didn't think moving could be easy. Robinsons made it very smooth.
M. Hilleard – January 2013
All contact with Robinsons has been dealt with effiiciently. The crews were very helpful and worked very hard to deal with the move smoothly.
Karen Cooper – January 2013
Robinsons staff were at all times helpful, conscientious, extremely hard working, punctual and pleasant.
William Davict – January 2013
Very pleased with the crew – excellent service. Keep it up, many thanks.
Nimish Chocai – January 2013
Just to say a big thank you to your removal team that moved my father Mr Walker yesterday (23.01.13) from Divinity Rd to Tawney St Oxford. They were brilliant – courteous, professional, and very careful, in what were difficult weather conditions – very many thanks for making the move so manageable.
Nick Walker – January 2013
Hi Lucy, many thanks to you and your crew – a fantastic job and we were really pleased with the service from start to finish.
Chris and Jackie – January 2013
I would like to say what a thoroughly nice team of removers we had, they were excellent.
Mrs Champion - January 2013
The moving crew were great! They were polite, curteous and fast!
Mrs P Gray – January 2013
Suzanne Lang – Moving consultant was excellent, as were crew who collected and re- delivered.
Henrietta Harrison – January 2013
A happy New Year to you, I have just completed your on-line customer survey and I would just like to let you know that I was extremely pleased with the level of service I received from the very start to the end of the move day. Your removal men on the day were extremely helpful and a credit to your company.
Keith Knox – January 2013
Now that Christmas is over and we are well and truly settled in our new home, I wanted to place on record our sincere thanks to you for the service provided by Robinsons. The guys were a truly professional and always courteous team who ensured that for us, this immensely stressful period was made as easy as possible – they are a great credit to Robinsons.
Can I also thank you personally Alison, for your unfailing advice and assistance from start to finish which again made all the difference to us. Not that we are particularly keen on moving again, but should we do so we will be knocking at your door again.
John & Teresa Hague – Glos – January 2013
Very belatedly, I am writing to thank you for making my move on the 19th September, from Oatlands Road to Northampton Road in Oxford so smooth.
Cheryl, who came and surveyed my stuff, was very friendly and professional. Your help and advice when I later phoned you to make changes and ask advice were both helpful and reassuring. And finally, the three chaps who came up from Southampton to do the actual move were absolutely wonderful. I feel embarassed that I didn't get their names, but it was one of those extremely stressful days!
Please pass on my heartfelt thanks to all concerned. Since my move I have been singing your company's praises to all and sundry, many of whom say 'Oh yes, we used them and they were really excellent'.
Best regards,
Sue Goodale – November 2012
Just wanted to express my sincere thanks to your company, for the professional move to my new home. The removal men were exceptional in their manner, and approach, to moving my belongings – all that you and your website said they would be.
Thank you once again.
Mr P. Merchant – November 2012
I just wanted to take the time to say what a wonderful job Ian, Dave and Billy did on Friday for our house move. They were so efficient and helpful. Everything went really smoothly and they took so much stress out of the day with their sunny disposition and hard work. Please pass on our thanks to them for their fantastic work!! If we were to move again – and I certainly don't intend to for a long time!! – we would certainly come back to your company. I will be recommending you to anyone I know who is moving!!
Rachel Triptree – October 2012
I wanted to write to you formally and let you know how delighted we were with the service Robinsons provided for our move.  From our first conversation you were most helpful and extremely efficient.  I would also like to thank the two removal men personally as they were absolutely brilliant!!  They made a potentially very stressful day into one which I shall remember with happiness.  They were kind and considerate and made me feel that nothing was too much trouble.  They worked very methodically and I trusted them completely. The move was not an easy one for them as it involved taking furniture and boxes upstairs using a spiral staircase in our new home.  However they were incredibly hardworking and extremely helpful throughout the day. Once again thank you and please pass on my thanks to your team for all their help.
Elaine Dowsett - October 2012
The crew you sent were excellent, two of whom (Roy and Ian) had moved us before. We would be very happy to recommend Robinsons to others and have already 'sung' your praises! Thank you for helping us with our move.
Judith Mary Meyrick - October 2012
Thoroughly professional, courteous and efficient. Thank you so much to Chris, Matt and Callum.
Simon & Jo Webber - September 2012
We thought the crew that moved us were excellent, Phil and Richard even helped us to locate the switch for the immersion in the new house.
Mr and Mrs Armitage - August 2012
Everything went fantastic, movers were very good and would happily recommend your services to friends and family
Mark Howarth – August 2012
We were delighted with all aspects of the service provided. Especially the removal men on the day who were absolutely excellent.
Trevor Dommett - August 2012
The removal crew did an excellent job.
Gareth Jones - July 2012
The move crew from Basingstoke (Paul & Richard) were excellent. Robinsons should be extremely proud to have such employees on their books. They were at all times courtious, considerate, enthusiastic, and extremely efficient.
Keith Joslyn - July 2012
The men were very helpful and careful with all items
Mr. R G Cousens – July 2012
The removal men that actually moved us were fantastic. Would definitely use again.
Peter Rowlandson - July 2012
Excellent service thank you. Especially as there was such little notice between arrangement and the actual move.
Jules Rossiter - July 2012
We were very pleased with the way our moving day went. Everything was loaded and unloaded very quickly, with no fuss. The guys were cheery and courteous and worked really well together.
Andrea Howells – June 2012
We have had to move several times in the last few years and think that your service was the best we have encountered.
Robert Green – June 2012
We had a LOT of stuff. Many thanks for helping to make a difficult move possible.
Fiona Brazier – June 2012
Very professional service, would use again. Thanks
Howard Green – June 2012
The guys worked really hard on the day
Adone Thatcher – June 2012
We were more than impressed by the service which we received before and on the day of the move. The crew of Phil, Jerry and Richard were fantastic in every way, handling the removal with absolute care. We are largely now unpacked and have found no breakages. Well done lads
Mr & Mrs R M F Lewis – June 2012
Lee & Paul packed china & glass excellent workers, most helpful. Paul & Rob did collection from highcliffe % delivered to Portishead, nothing was too much trouble for them. Always pleasant, they woked very, very hard.
Mrs J Hughes – May 2012
Extremely helpful and efficient service. The crew were great and made a stressful day go smoothly
Hazel McIntosh - May 2012
Your men could not have been more helpful. They really made everything so easy for me. I am 81 and haven't moved in 54 years.
Mrs. Floyd - May 2012
The crew were excellent, all really good
Nick Fulcher – April 2012
I found your service efficient, flexible, easy to deal with. I used Robinsons in my previous house move in 1997 and would definitely use you again and recommend to others
Anthony Nicholls - April 2012
Very happy – job well done
Ben Irons – March 2012
Daniel & Scot were a credit to your company
Mr H Katz - March 2012
I was extremely happy with the service provided by Sam Boon and the crew thank you
Doug Craddock – February 2012
Excellent service, can't fault anything
Mr & Mrs Catmur - February 2012
Grateful thanks to Martin, Lloyd & Louise (admin) for an excellent service.
Yardley - February 2012
This is a "big" thankyou for moving my goods and chattels down to Devon on September 10th. Your gentlement were very professional, kind, nothing was too much trouble and very thoughtful – it all went very smoothly. My very grateful thanks and I will have no hesitation in recommending your company to people I meet.
Just a quick thankyou for the excellent service we received from your team of Ben, Bas & John for our short move within Knowle late in May. Conscientious, calm, caring and friendly are words which readily apply to all of them and I would have no hesitation in recommending you to my friends and family
Really friendly moving guys, will book you again
The crew (Ben and Chris) were unusually helpful, thoughtful, friendly and courteous.
I thought the two guys that did my removal were very friendly and efficient.
Service could not be better
All round I thought the service was outstanding
Easy, pleasant, and great job done. Thank you
The men who came to assist in the move were very friendly and it made a stressful day much easier. Thank you so much.
You chased us up to ensure that you got the business. This was particularly useful. We also had to change the removal date twice and you were able to respond to our needs.
Great service, very impressed on packing of antiques, thanks
The moving crew guys were absolutely brilliant – we cannot praise or recommend them more highly. Our whole experience with Robinsons was excellent.
Crew on the day were brilliant along with Dean. Would definitely recommend. The crew that moved us were excellent, nothing was too much trouble for them.