If you enjoy working for an organisation that thrives on values such as teamwork, integrity, responsibility, encourages personal growth and celebrates achievements, then we think you would enjoy working for us.
Working At Robinsons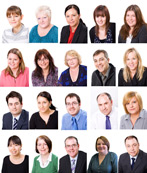 In the same way that the moving experience is not just about providing the right type of removal vehicle or the right type of packing material, working for Robinsons is not just about providing the right desk or company car – it's about the friendliness, commitment and dedication of our people. That is why we remain one of the most trusted names in moving, as well as one of the most genuine companies to work for.
Whether your interests lie in finding a practical hands-on role working locally or in different locations across the country, or you enjoy providing a real moving solution to customers, the opportunities at Robinsons are as diverse as the people who work here.
We are looking for people who have good communication skills together with a friendly personality and 'can do' attitude, common sense, the ability to work in a team but also show that little bit of an entrepreneurial spirit, commercial awareness, energy, resilience and adaptability. But above all, we are looking for people who believe in really looking after our clients and putting that into practice.
Position: Import Groupage Manager
Location: Abingdon, Oxfordshire
Salary: circa £23k per annum
ROLE:
The Import Manager is a varied role where every day is different from the last, you will liaise with a wide range of people on a daily basis (including overseas agents, importers, HMRC, shipping lines, transport agents, and many more) to allow a fast turnaround of import groupage containers for delivery to end clients.
RESPONSIBILITIES:
a) Dealing with oversea agents regarding any groupage enquiries or containers they have coming to theUKdestined for locations around theUKandEurope.
b) Updating importers with delivery information, assisting with Customs requirements and paperwork via email and phone.
c) Direct contact with HMRC to Customs clear effects into the European Community. Enforcing Rules and Regulations set by HMRC in regards to import requirements.
d) Liaising withUKand European operations teams to arrange delivery of removals within time frames and cost restraints.
e) Creating delivery paperwork for operations.
f) Preparing Customs entries, calculating duties and taxes due on effects falling outside relief conditions.
g) Quoting destination services, storage and additional service options to agents and importers.
h) Invoicing destination services to agents and clients ensuring costings are covered.
ESSENTIAL SKILLS / EXPERIENCE:
a) A high level of attention to detail is required, with good time management to keep all aspects of the department running smoothly.
You may have experience of the following: Import Manager, Logistics Coordinator, Freight Forwarding,  Export, Revenue and Customs etc.
For further details please contact David Williams at david.williams@robinsonsrelo.com